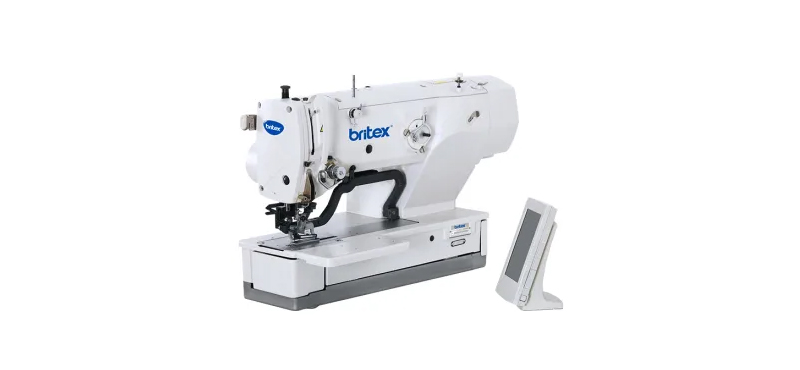 BR-1790A
High Speed computer controlled straight Button holing sewing machine - Brand: Britex, Model: BR-1790A. Oil-free clean sewing. Electric clamping organization. New pulling thread-slacking device.
- New base thread and surface thread cutting device.
- Multifunction operation control panel.
- Simple and convenient operation, simple and accurate orientation.
*** Application: Applied for all kind of materials: Light, medium and heavy material and all kind of parrel special for Sleeve button holing.
- BR-1790AS: Suitable for cotton fabric such as: shirt, lady garments, working suit, etc.
- BR-1790AK: Suitable for Knit goods such as: underwear, sweater, knitted sweater, etc.
*** Special Spec Described:
- Unique electronic yarn clamping mechanism, through the adjustment with the electromagnet yarn clamping tension can achieve the difference needs of button holing middle parallel part and bar tacks tension.
- New slicer equipment, cutting material more accurate. The cutting force of up-and-down movement is drive by the both way electromagnet to make the cutting. material more accurate. Through the unique function of slicer repeatedly fall and rise, do not need to change the slicer when change the size.
- Multifunction of operation panel can set the front five needle through the operation panel, to achieve the function of slow start, effectively avoid the break Line when machine fast start. Through the electronic control to bar tacking the last sewing to avoid the off-line of buttonhole. The adjustments of width, length of buttonhole, the speed of sewing can achieve through the operation panel.
- Use 5 high-precision stepper motor (top tangent, down tangent, feed, swing presser foot), capacity of decomposition can reach 0.05mm, make the stitch steadier and more beautiful. Meanwhile easy achieve auto-operate, greatly simplify the organization and reduce the noise.