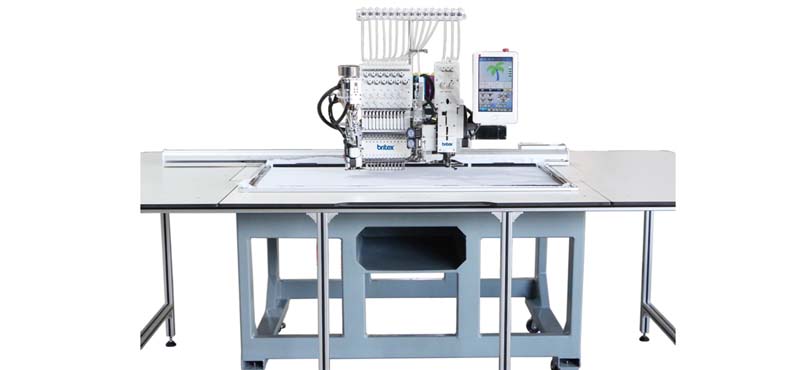 Britex Embroidery Machines
Complete Embroidery Solution with Advance Technology
Available in 6, 9, 12 or 15 Colors form Single Head to 28 Heads
BRITEX flat embroidery machines are widely applied in batch process of artwork such as toys, handbags, shoes and hats, children's wear, sweaters, underclothes, bedding, curtains, towels, straw mats, cloth, home textile, jeans wear with excellent performances.
Major Features:
Developed digital variable presser foot, with a separate vertical mechanism, drive presser foot and needle bar separately, reduced the vibration of needle bar. The stroke of the needle bar can be changed, so it can be based on the thickness of fabrics like thin, thick, hat embroidery and other different type of fabric.
Adjust the pressure of the foot stroke, improve the accuracy of embroidery.
Britex Embroidery Machines adopts a large bottom plate structure to strengthen the stability of the body, the upper and lower shafts are separated and the direct drive structure is adopted to reduce the vibration of the machine body and at the same time reduce the sound.
Britex Embroidery Machines right-induced computer is integrated and easy to maintain.
It solves the multi-level transmission of belt pulleys.
The problem of belt edging caused by dynamic transmission, moment dispersion, speed increase by 20%, and overall power rate It has been reduced by 50%.
Britex Embroidery Machines has a built-in storage space, which can store accessories for the machine, and the platform adopts super durable abraded anti-fold special board.